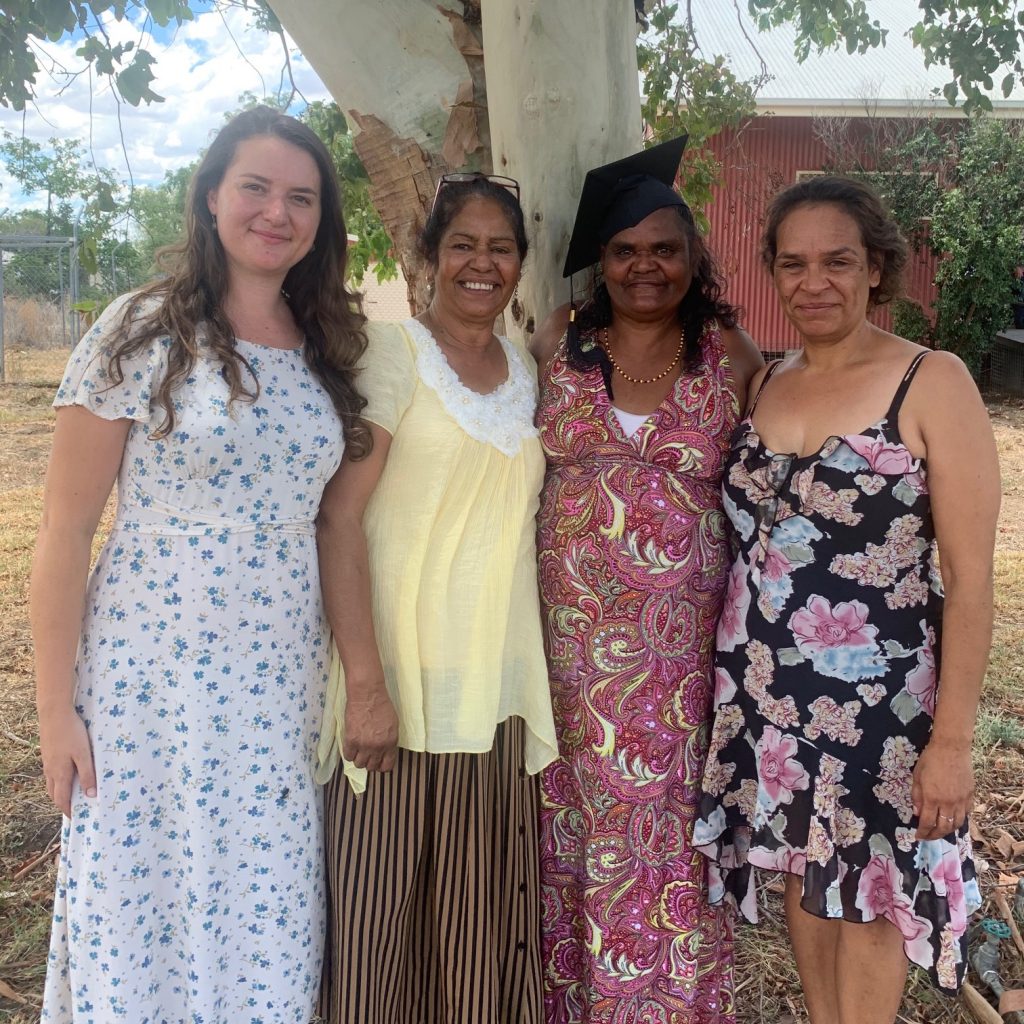 When our students graduate it's emotional.
Tears were flowing when Violet (second from the right) graduated in the NSW town of Collarenebri.
Violet, 53, was born deaf. And she missed out on learning to read and write at school.
You can imagine how isolated you'd feel if you had so few ways to communicate. It would be hard enough most of the time – but even worse when people have been cut off from each other to stay safe during the pandemic. (Sending text messages and doing video calls are almost impossible when you struggle to read and write.)
But through Violet's hard work, and the support of our team, she completed our Aboriginal-community-controlled literacy Campaign.
Not only did Violet learn to read and write, but she can now keep in touch with people via text message. It has opened up her world. And she has gone on to do further training, learning First Aid and studying the local Gamilaraay language.
One of her favourite achievements is having learned two songs in Gamilaraay.
If you can, please consider making a tax-time donation to Literacy for Life before June 30. (If you have donated already – thank you!)
I'd also like to say a big thank you to Violet's two Auslan interpreters. We couldn't find anyone locally to help Violet, so we organised for a couple of Auslan interpreters to join each literacy class from hundreds of kilometres away, via video link on an iPad.
Which brings me back to all those tears. The Auslan interpreters, Sam and Emily, joined the Graduation Ceremony via video link on an iPad too – and they helped Violet share her Graduation Day speech, by explaining what Violet was signing to the audience.
I can tell you that during her speech, Violet was crying, Sam and Emily were crying, and even the person holding up the iPad was crying. There weren't many dry eyes in the audience either. Everyone was so happy for Violet.
I'm pleased to share that Violet is now one of over 250 Aboriginal adults who have learned to read and write through our community-run literacy Campaign.
Thank you for being part of something so great – Jack Beetson, Executive Director, Literacy for Life Foundation