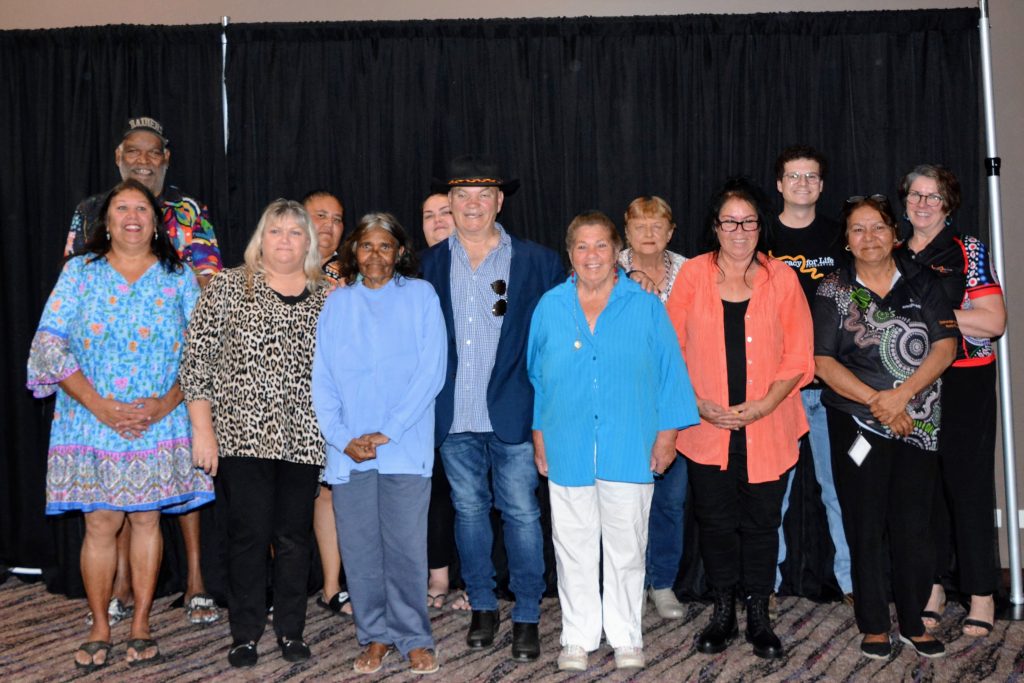 Late last month our staff and students celebrated Coonamble's first Aboriginal Adult Literacy Campaign Graduation. Eight adult students completed basic literacy and digital literacy training, led by a team of local Aboriginal staff and supported by Aboriginal organisation, the Literacy for Life Foundation.
Nationally, over 400 students have now completed Literacy for Life Foundation's training and improved their reading, writing and digital skills.
The Coonamble Times was on hand to help celebrate Graduation Day and have allowed us to republish their full article below. To view an online copy and see other coverage of the The Foundation's work, please visit the paper's website.
Yes They Can
28/9/23
"It went so fast for us," says John Murphy who was part of the graduating class of the first Yes We Can! Community-driven Indigenous literacy campaign held in Coonamble.
"We went there on our terms. We wanted to be there, wanted to learn. That's why the six months went so quick for us."
He says his handwriting improved "about 100%" through the course but he loved everything about it.
"I still read the paper but I found the computers really helpful and can now use email."
John and seven other graduates attended a ceremony and luncheon held at Coonamble Bowling Club on Monday 25 September.
They were joined by family members, local staff and representatives from the Literacy for Life Foundation, the organisation behind the Indigenous literacy program.
"I really enjoyed it," said fellow student Mae Welsh. "I learnt a lot too – how to spell and do my sentences properly."
Mae is 74 years old and the eldest graduate of the group.
"I only had about two weeks of high school and had to leave for work," she said. "And since then I've been looking after children. Last time I counted I had 32 grandchildren, so this was my time for me."
"I really loved the class, I'm thinking about going back next year."
Margie Nixon attended school to Year 10 and says she joined to get out of the house but found the course very helpful.
"I loved the computer work, getting an email address," she said.
"I didn't think I'd like it but I did like it from the first day and I just kept on going. It'll be boring when it's all finished. I can't wait till next year.
"I reckon everyone should have a go, no matter what. You get a lot of skills out of it. It was a good year for me."
Lynette Welsh agrees.
"I liked it all. There were things I didn't know and I've still got a bit of work to do."
"I had no confidence in myself, I was never out of the house. This really helped."
"I was always last to class but I didn't want to miss out on anything."
Professor Jack Beetson is Executive Director of Literacy for Life Foundation and says he's very proud of how the local community have picked up the program.
"It seems so long ago when I first came here to talk about the program," he said. "I remember some people said 'it won't work here' but it has worked.
"I've got such a sense of pride in what the community have done. There's absolutely nothing I can do to make this work – it's all about the community and it shows how well a community-led initiative can work."
During their classes which ran three days each week, participants worked on aspects of literacy like spelling, handwriting, punctuation and sentence structure.
"We spent the last four weeks on comprehension," said Campaign Project Officer (CPO) Dominic Donaldson. "We took half a dozen short stories out of Jean Hamilton's book 'Just Lovely' and used that to work on comprehension."
The students also co-designed the post-literacy phase of the campaign.
Guests were brought in and group tasks were undertaken.
This involved a visit by Lachie Dennis and Fleur Magick-Dennis from Milan Dhiiyaan for some cultural learning, and a bush trip into the Pilliga with Brenda McBride to learn about making bush medicine from plants.
The group also contributed recipes to a book they compiled and published.
"The students' recipe book is a great momento to have," Mr Donaldson said. "They wrote out the recipes, typed them up and ended up cooking the meals as well in REDI-E's industrial kitchen."
"This group was really warm and friendly, and supported each other right through," he said. "It was a very rewarding experience."
Mr Donaldson will soon return to Western Australia for family reasons and the course will take a break until 2024.
Sonja Sands and Letisha Stevens will join team members Emily Albert, Debbie Welsh and Jenna Fernando ahead of two planned intakes next year.
"We need to find a new CPO," said National Campaign Manager Angela Keefe. "We'll have the staff be part of the interview process because it's their program now."
The continuity of the program will depend on the level of interest from the local community and this year's graduates all say they'll be spreading the word.
"I tell everyone, I'm like a walking billboard," he said. "It wasn't really hard work and everything just fell into place.
"It's like karaoke, or talking at a funeral, you want to do it but it's not until you get up and do that first song that you know you can."
Source: The Coonamble Times
The Foundation's Coonamble Aboriginal Adult Literacy Campaign is possible thanks to funding from the Australian Government, the NSW Government and donations from all our wonderful supporters.